If you wish to create an Amazon store and do not know which niche to select, this article will give you leads and help you find a genuine niche product. The methods shared in this article on how to find a profitable niche to sell on Amazon, are extremely simple. These are some of the best exercises for people who wish to quickly find Amazon niches and will help you start your journey to become a successful seller on Amazon.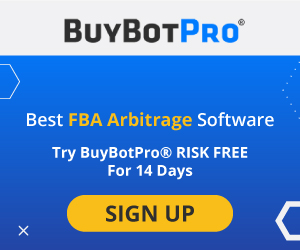 Why Choosing a Profitable Niche is Important?
Niche is the smaller division of the broad market that focuses specifically on specific demographics, common interests, or solutions for customers. The aim is to cater to a small segment of the population because it is easier and more profitable. For Amazon's business, it is essential to find a niche product. The competition you face in it will not be as much as the one you will face in a broader market. From the point of view of customer acquisition, you will be focused on acquiring just a few people. Amazon sellers prefer niche products because it makes landing sales easier and more convenient.
How to Find a Profitable Niche to Sell on Amazon India?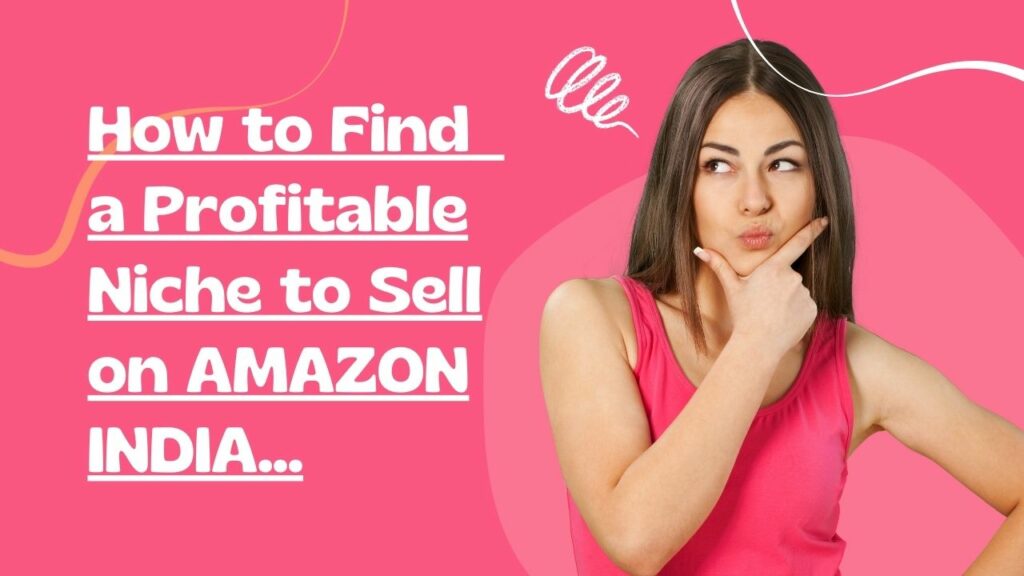 In order to find a profitable niche to sell on Amazon India, we will be using an Amazon seller tool called ZonGuru. The tool has an interesting feature called 'Niche finder' that can be used to find winning niches that can succeed on any Amazon marketplace. So, let us go ahead and see how we can find a few profitable niches to sell on Amazon India.
Step 1: Getting Started with ZonGuru Niche Finder.
For users having an existing ZonGuru account, they can go ahead and sign in. Those who are new to ZonGuru can signup for a Free Trial of their Seller plan. Once you have successfully signed up and logged in; you can see "Product Research" under "All Tools". Click on "Product Research" and then click on "Niche Finder".
Step 2: Understand the "Niche Finder" Tool and its Mode- Easy/Advanced
The niche finder tool lists "niche keywords" along with a "Niche score". The higher the "Niche score" the better the chances of profit. The niche score is calculated based on the following 4 factors listed below.
Buyer Demand: The buyer demand is calculated using numerous data points representing how likely people are to buy products within that niche. The important factors include monthly search volume and monthly sales volume for the particular keyword.
Competition: The competition opportunity is based on factors that indicate how experienced the sellers are in that niche. Factors like sales volume, sales velocity, and listing strength, determine the competition opportunities. The weaker the listing strength, the higher will be the competition opportunity, and that's a good thing.
Investment: The "investment sweet spot" is calculated based on the launch budget, and cost to purchase 3 months of inventory based on page 1's average monthly sales volume. The recommended launch budget should be anywhere from $10-15K.
Revenue Potential: It is calculated from the estimated profit sellers are capturing within that niche based on sales velocity and average price.
Step 3: Choosing the Right Category for Your Niche
Choosing the right category is important for niche finders to work. The tool list all the categories and you need to choose your preferred one under which you want to find the "profitable niche" Let us select the categories "Outdoor Living" and "Sports, Fitness, and Outdoor" to see how this works. After selecting the marketplace as India, I am going ahead and clicking on the "Search Button".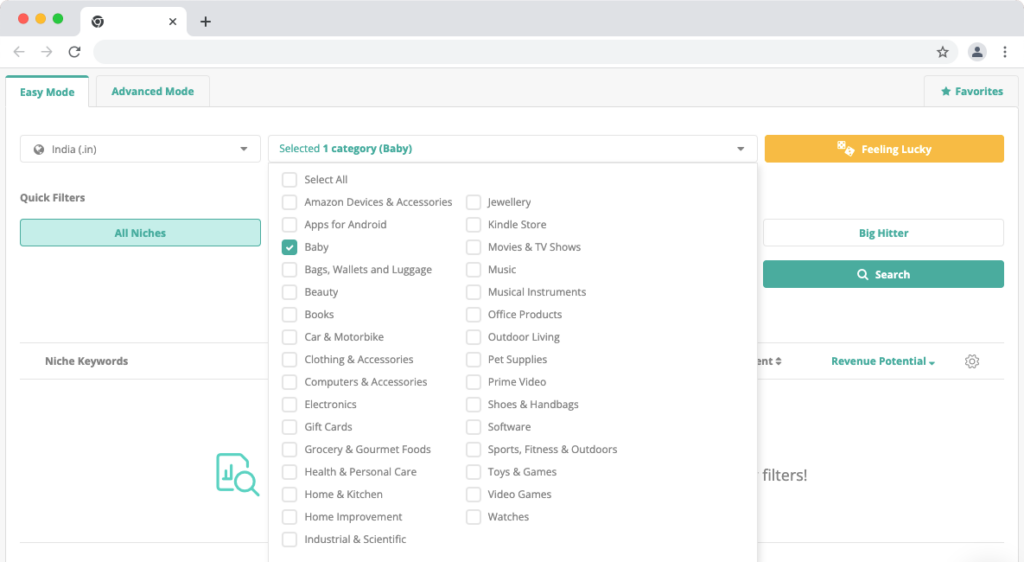 Step 4: Browsing through the Products and their Niches.
You are provided with a list of niche keywords and alongside you have the buyer demand, competition, investment, and revenue potential. The keywords that have the highest combination of all 4 will have the highest niche score and those are our "profitable keywords" from there we can choose our "profitable niche". So now, we will sort the "Niche score" from highest to lowest and make our keyword selection.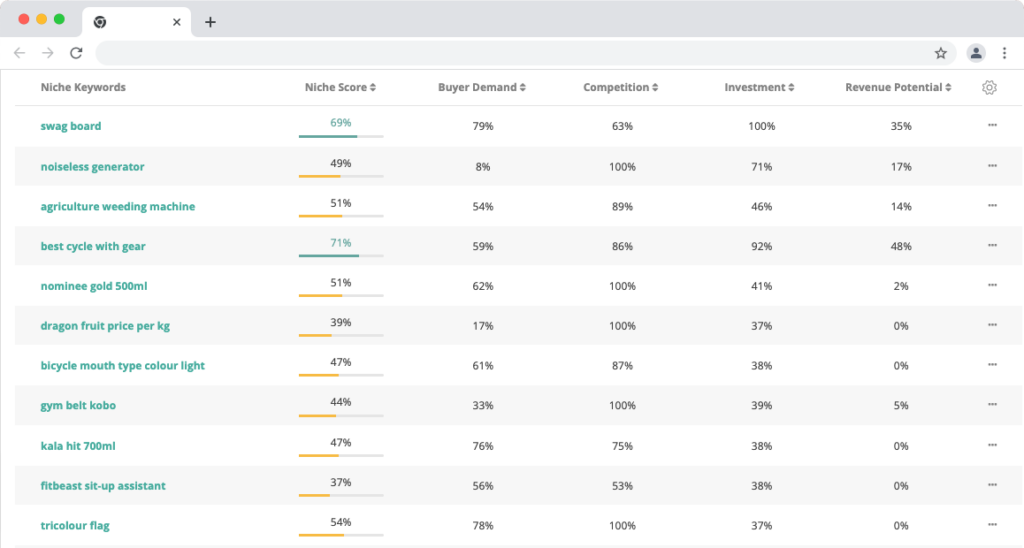 Step 5: Making Your Selection Based on Niche Score.
As you can see now, the niche score is high for a number of keywords. You can go through these high niche score keywords to identify your profitable niche. I am listing down the niches which I think are profitable as per the data provided. The niche is basically a broader "keyword group" which represents a number of keywords or products under a specific category.
| | | | | | |
| --- | --- | --- | --- | --- | --- |
| Niche | Niche Score | Buyer Demand | Competition | Investment | Revenue Potential |
| Bicycle for kids | 80+ | 80+ | 90+ | 90+ | 70+ |
| Fitness band | 80+ | 70+ | 80+ | 90+ | 70+ |
| Dumbbells | 80+ | 80+ | 60+ | 90+ | 80+ |
| Badminton racket | 70+ | 80+ | 50+ | 90+ | 60+ |
Step 6: Saving High Niche Keywords from the List
Once you have an idea of the "profitable niche", you can save the keywords of your choice but clicking on the 3 dots and then adding them to your favorites. Additionally, you can also send those keywords to other ZonGuru tools for more insights. I have selected some keywords for the "Bicycle for kids" niche and added them to my favorites. Now, click on the "Favorites" tab in the top right corner and you have access to the list of high niche score keywords.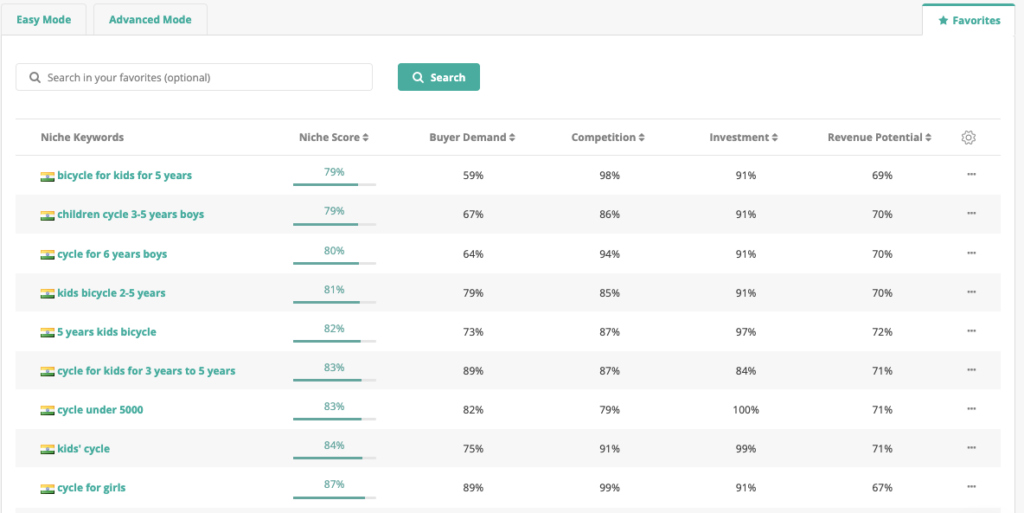 This is how you can find a profitable niche to sell on Amazon India based on data that is backed by real-time research and analysis. The "Niche Finder" from ZonGuru is an excellent tool that can help you with product research and help you finalize your niche for Amazon's product launch.
FAQs: Things to Keep in Mind while Choosing a Profitable Niche to Sell on Amazon India
There are a few key points that you need to know before finalizing a "profitable niche" to sell on Amazon India. They are-
Extensive Product Research: Choosing a profitable niche that matches your business goals requires extensive research. Product research, sourcing, inventory management, branding, and a lot more for success. All of these need to be aligned with your product launch strategy for a successful launch.
Market Opportunity: Finding the sweet spot between a "market opportunity" and "profit" is perhaps the gateway to success for Amazon sellers. A market opportunity will give you an early starter advantage and the learnings accrued over time will eventually help you scale.
Disruption: Having a product that can disrupt the market can give you the biggest benefit in any marketplace. A disruption can be engineered to great success and many personal care brands in recent years have made disrupted the markets because of their product quality and affordability.
Marketing Budget: There has to be enough marketing budget that can sustain you for at least one year. There would be enough hurdles even after a successful product launch. You have to continuously invest in PPC campaigns to drive sales. Thus a good marketing strategy and a marketing budget for the first year of your operations are important.
Age of Competitor's Listings: If you choose a niche that already has been in the market for some time; then it can get more competitive for your products to generate sales and rank better. This is because your competitor's listings are already having 1000's reviews and ratings on them. Unless you are able to disrupt the market, it gonna be really hard to compete.
The Bottom Line
Niche markets are focused on a segment of broad marketing and have demands and preferences which are different from the other Amazon niches. It leads you to target specific audiences and their unique demands, which provides you with a competitive advantage in comparison to sellers who are addressing a broader audience because it allows you to concentrate on specific needs and preferences. This helps you create an outstanding approach and create buyer loyalty. Follow our article to find a profitable niche to sell on Amazon.
Limited Offers: On Growth Tools for Your Ecommerce Business