There is a very large number of Amazon seller tools available in the market, which makes it difficult to understand what you really need to manage your business and scale it. You will find several lists, but before you start comparing tools, you must get an overview and understanding of the tools and see what you really need and what would meet your needs, else you are risking spending money on tools with a poor price-performance ratio. Here is a list of the best Amazon seller tools in India.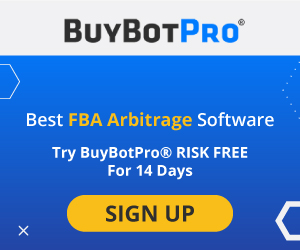 Why Do You Need Amazon Seller Tools?
There is a lot of data available on Amazon activities and it means that all of the given tools can help with your sales efforts. True growth and optimization come only when you take into consideration the customer's journey and relationship with your business. You need to use the best Amazon seller tools in India to get and utilize the insights derived from these tools. Using these tools, sellers can make sure that all your decisions are reliably supported and well-informed. These tools are most important because it guarantees that your decisions are well-informed with customer data and can be used for growth and better ROI. Some reasons why you need Amazon seller tools are:
It helps you save time. There are tasks like checking prices every hour, monitoring rankings, writing customer data, checking inventory, and more. All of these would take a lot of time and energy and you can use tools that can automatically do this.
It saves money. The right software will save money and also actively increase your sales. There are times when you cannot detect mistakes that Amazon makes in fee calculation and reimbursement tools can be of major help.
It helps reduce errors. Using an Amazon seller tool, you will get actual reliable data and not rely on word of mouth or gut feeling.
It helps better predictability. Predictability is a very important factor that helps build a successful business and manage profitability. With a profits dashboard, inventory software, and other tools, you can plan for the future with reliable data.
Choosing the Best Amazon Seller Tools in India
Not all tools are going to suit every Amazon seller. Here are some things to consider when selecting the best Amazon seller tools in India:
Make sure that the seller tools are TOS compliant. You cannot use a tool that is based on black hat methods because Amazon's advanced algorithms and staff can immediately detect fraud attempts.
Make sure that the tool is easy to use. Using the tool must feel intuitive and it should be well-structured. A clear dashboard and simple UI can be very helpful.
The tool must offer good support. Tools are only as good as the support behind it.
The tools must be updated frequently. This means that there must be a continuous improvement in security adjustments based on the new laws or rule changes.
The tool must offer APIs. This is a major plus because a good seller software is compatible with other software too.
10 Best Amazon Seller Tools in India: 2023
These are some of the best Amazon seller tools in India that can help you succeed.
1. Helium10: Best Amazon Seller Tool in India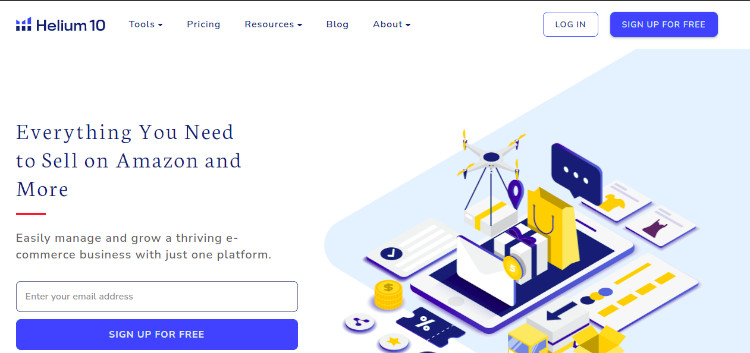 Helium10 helps you easily manage and grow a thriving e-commerce business with just one platform. It is one of the industry's first all-in-one software for Amazon. It has the largest dataset of products and keywords. You can use it for a variety of things including keyword research, keyword tracking, product research, and more. Helium10 does cater to the Amazon India marketplace and hence it is an appropriate and perhaps the best tool to get started.
Features:
Product Research: Easily find a product with their database, and quickly validate its success with at-a-glance analytics like seasonal trends, profit estimates, and more.
Keyword Research: With multiple keyword search options, like single-word and reverse searches, source everything from backend keywords to low-competition phrases, and more.
Write Listings: Leads you through the listing creation process so you write stellar, high-ranking listings every time.
Easily Manage Business: With alerts, updates, and non-stop monitoring you know what's happening with your products, seller account, and markets.
Pricing: You have to pay $29 per month for their Stater plan. You have to pay $84 per month for the Platinum plan. You have to pay $209 per month for their Diamond plan.
2. BuyBotPro: Best Amazon Arbitrage Software Tool in India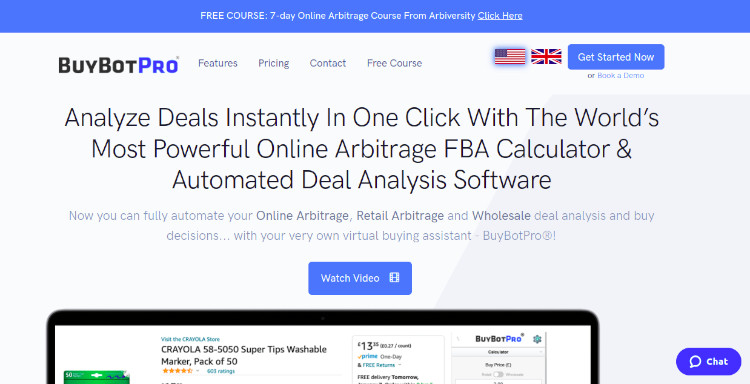 BuyBotPro helps you automate your online arbitrage, retail arbitrage, and wholesale deal analysis and buy decisions. It automatically checks your Amazon online arbitrage deals for you and saves you time. With just a click, you get a fully automated analysis of all the features that the platform offers. BuyBotPro isn't available for Indian markets but it is a must-have tool if you are from India and looking to sell products abroad.
Features:
Sales Analyzer: Analyzes historical prices, so you can see how fast the items sell.
Sales History Analyzer: Calculates your ROI and profit for you and includes costs that other calculators ignore.
ROI and Profit Calculator: Tells you exactly how many sellers there are on the listing, including FBA sellers, MF sellers, and Amazon, their stock levels, their review account, and even how much of that is positive.
Oversize Alerter: Helps find out at a glance whether the product is likely to be oversized or heavy.
Pricing: The desktop and mobile plan without suspension safeguard would cost you $35.95 per month. The desktop and mobile plan with suspension safeguard will cost you $49.95 per month.
3. ZonGuru: Best Amazon Seller Tool in India
ZonGuru is an all-in-one private label seller toolkit that provides powerful data insights and automation to grow your Amazon business. ZonGuru combines all the best functionality from its competitors into one user-friendly interface, at a very reasonable cost. The customer service email automation tool is specifically good. ZonGuru does cater to the Amazon India marketplace and there are already a number of Amazon sellers who are using ZonGuru.
Features:
Review Automator: Automates review requests with a click of a button.
Product generator: Helps generate product ideas in the blink of an eye.
Track and Spy: Helps track monthly sales data for any Amazon product and spy on your competition's backend listing copy for ultimate insight.
Dashboard: Provides all your important business metrics at your fingertips and manages products and alerts.
Monitoring: Helps you stay alert on critical changes to your products.
Pricing: Their Researcher plan will cost you $39 per month. Their Seller plan will cost you $49 per month. They have custom Enterprise solutions.
4. JungleScout: Best Amazon Seller Tool in India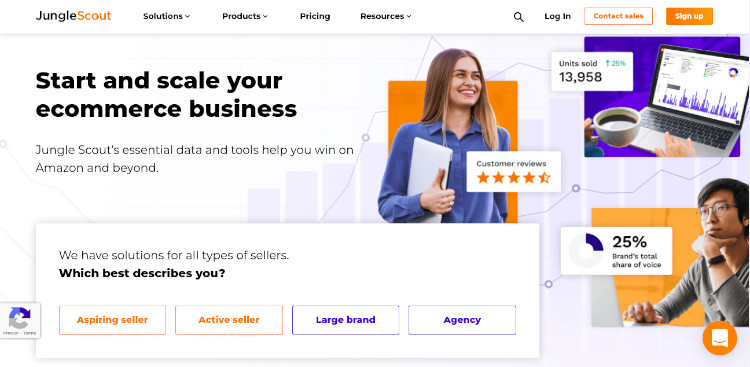 Jungle Scout's essential data and tools help you win on Amazon and beyond. It can help you find a winning product and launch your Amazon business. It allows you to take your business to new heights with tools that make it easier to drive sales. It helps get market insights and advertising solutions built to support the world's largest brands. JungleScout is one of the best entry-level software for Amazon sellers in India.
Features:
Helps uncover high-demand, low-competition keywords to find products with maximum profit potential on Amazon.
Helps identify trends and filter opportunities using AI-driven insights so you can confidently craft your product strategy.
Reverse-search up to 10 ASINs and compare related organic and sponsored keywords.
Use advanced filters to find the top-performing keywords for a group of competing ASINs and which keywords a product ranks for.
Allows you to access market share data for any segment.
Pricing: Jungle Scout offers a variety of pricing options:
Seller Basics offers browser extension, Sales Analytics, and their simplest version of Review Automation at $29 per month.
Research and Seller Suite offers everything you need to get started and expertly grow your Amazon business at $49 per month.
Professional plan offers everything you need to get started & expertly grow your Amazon business at $84 per month.
5. AmzScout: Best Amazon Chrome Extension Seller Tool in India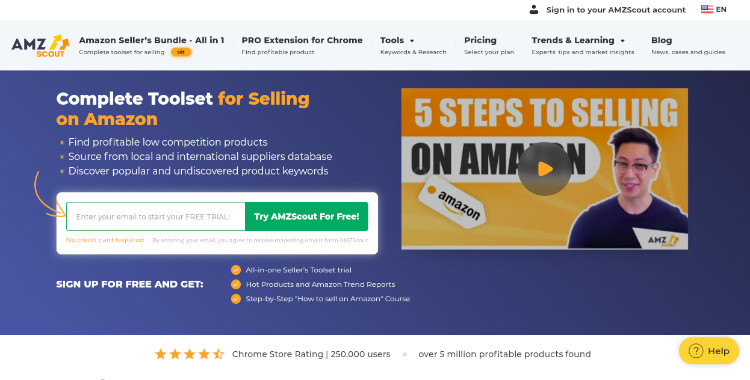 AMZScout provides a complete toolset for you to sell on Amazon. It helps you find profitable low competition products and sources from both local and international suppliers databases. It also helps you discover popular and undiscovered product keywords. AmzScout has a suite of features that is appropriate for those who are beginning their journey of selling online on Amazon.
Features:
Product Database: Helps find profitable products to sell on Amazon by filtering through products.
PRO Extension: Let's quickly get an estimation of product potential and competition level based on solid sales stats.
Product Tracker: Record everyday product performance to evaluate product potential and keep eye on your competition.
Quick View: Provides product sales data as if you were the seller of every item instantly, right on the Amazon page.
Stock Stats: See your competitors inventory quantity in real life to track their sales.
Pricing: The Amazon Seller's Bundle will cost you $29 per month. Their Pro Extension plan will cost you $16.49 per month.
6. Source Mogul: Best Amazon Product Research Seller Tool in India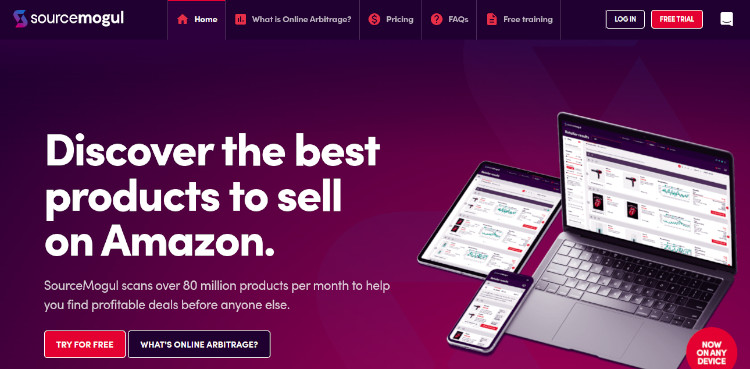 SourceMogul scans over 80 million products per month to help you find profitable deals before anyone else. It helps you find cheap products that can be sold for more money on Amazon. SourceMogul simplifies this process by finding deals before anyone else so that you can stay ahead of the competition and grow your business faster.
Features:
Speed: Scan millions of products quickly and identify profitable opportunities.
Advantage: Stay ahead of the competition and find deals before they sell out.
Insight: Real-time analysis of Amazon sales performance and sales rank.
Simplicity: An intuitive and easy-to-use user interface makes sourcing simple.
Quick Analysis: Intuitive and easy-to-use filters help to find the best products for you.
Pricing: Their plan offers Search by supplier/retailer, Amazon category search, wholesale list upload, and search, create wishlists for further analysis, fully responsive mobile version, stock availability search, and powerful filtering and profit analysis at $97 per month or $1074 yearly.
7. Zen Arbitrage: Best Amazon Book Arbitrage Seller Tool in India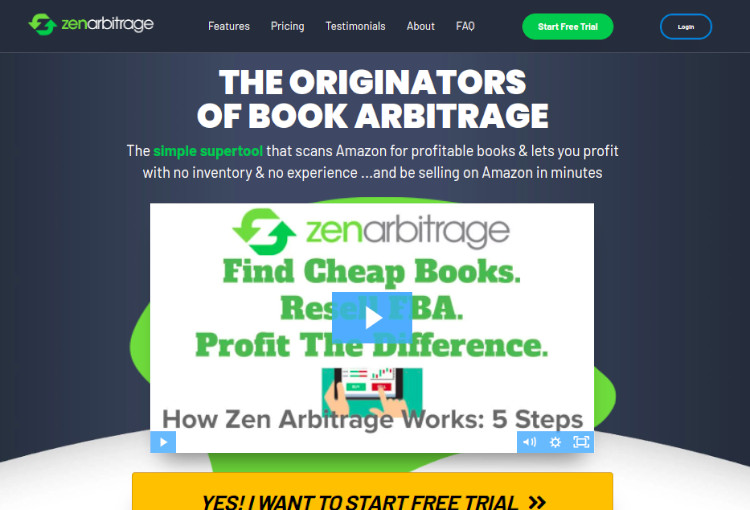 The super tool, Zen Arbitrage scans for Amazon for profitable books and shows you profit with no inventory and experience. Zen Arbitrage scans Amazon for the opportunity and helps you relist cheap books at a higher FBA price. They provide real-time Amazon data that is accurate-to-the-minute FBA prices. You get a full suite of profit-boosting tools like on-demand historical sales charts, filters for fast-selling books, trade-in arbitrage, and more.
Features:
Real-time data: Accurate, to-the-minute FBA prices.
Full suite of profit-boosting tools: On-demand historical sales charts, filter for fast-selling books, trade-in arbitrage, and more.
Multiple profit streams: One software, multiple businesses.
Pre-sorted lists of profitable books: Skip searching altogether.
Built-in profit tracking: Track all sales and profits with their built-in tool.
Price Drop Alerts: You get emails as soon as the price drops below the price you set.
Pricing: They offer two pricing plans:
The Zen Arbitrage plan will cost you $97 per month and includes all their available features.
The Zen Arbitrage and Zen Trade plan will cost you $125 per month and it includes all features available for Zen Arbitrage and Zen Trade, the private community where you can trade books and leads.
8. Sellerapp: All-in-One Amazon Seller Tool in India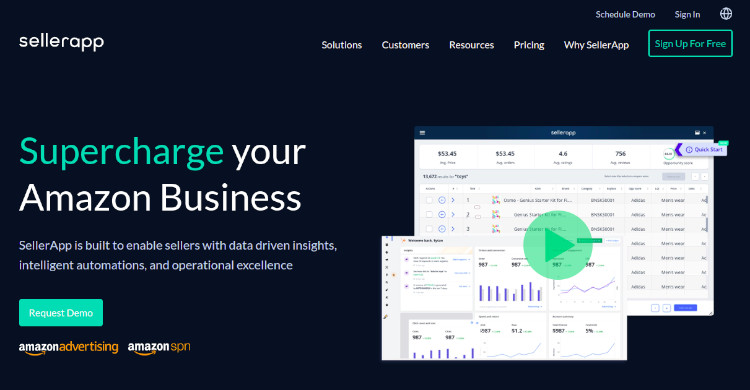 SellerApp is built to enable sellers with data, intelligence, automation, and operations. This single platform has multiple capabilities that help generate a multitude of benefits to effectively help sellers. It helps sellers monitor, optimize and scale their business globally. You can use Sellerapp to scale your PPC campaigns for the Amazon India marketplace.
Features:
Product Research: Helps discover high potential, low competition products, and niches.
Product Ideas: Helps discover potential product opportunities so that you get a well-rounded understanding of which products are selling and which aren't.
B2B opportunities: Offers sellers products that can be sought after by both retail customers as well as business buyers.
Keyword Research: Discovers low competitive and high opportunity shopper keywords.
Listing Builder: Helps Amazon sellers experienced and new to create professional product listings for Amazon that are readable, attractive, and focused on customer-centric keywords.
Listing Optimizer: Analyzes the visibility of your listing for the keywords in your listing – verifying the search rank and the position of the product for each keyword.
AI Automation: Helps outpace the competition with advanced PPC tools tailored to ensure long-term profitability by giving you granular and seamless control over every aspect.
Pricing: These are the plans offered by SellerApp.
Freemium: This does not cost you anything and helps you get started with your business right away.
Pro-Lite: It helps you take over the world of Amazon selling and seamlessly manage all your seller central activities with our unified platform and will cost you $49 per month.
Professional: It helps you expand your business operations and reap maximum benefits and cost you $99 per month.
9. Sellerboard: Best Amazon Seller Tool in India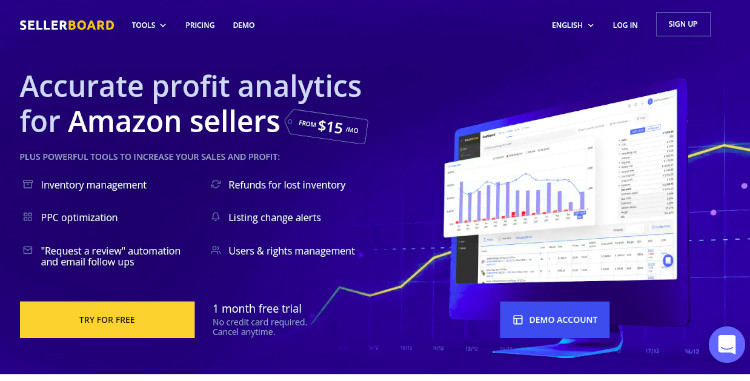 Sellerboard provides the most accurate profit analytics for Amazon sellers. It is the most clear platform that will break down all the data and costs that are associated with your business. This is highly recommended for inventory management and planning. Using it, you can increase profits by focusing on profitable products. It provides live data and helps monitor KPIs. Sellerboard is one of the recommended tools to help you get started.
Features:
Live dashboard: Display detailed information on Amazon fees (e.g. FBA fee, commissions), PPC spends, return costs, promotion costs, and more.
Configurable charts: Their flexible charts enable a quick and convenient analysis of your Key Performance Indicators. Everything is customizable.
Profit and loss table: It's a smart, clickable P&L statement, with the ability to focus on every parameter.
Exact display of all Amazon fees: Amazon has a couple of dozen fees, which is a lot to keep up with. They track all expenses and reimbursements.
Product breakdown: Exact details on any product, and for any period or marketplace. See actual sales, profit, fees, and expenses related to each product.
Monitoring fixed costs and other expenses: Sellerboard retrieves all Amazon-related data automatically.
Trends: The trends feature in the sellerboard helps you keep track of all important KPIs for every product.
Listing change alerts: Sellerboard monitors your seller feedback and your listings and notifies you per email about important events.
Pricing: Sellerboard offers a Standard plan which would cost you $19 per month. They also offer the Profession plan which would cost you $29 per month. Their Business plan will cost you $39 per month. Their Enterprise plan will cost you $79 per month.
Roundup
These are some of the best Amazon seller tools in India. They would offer a great way to automate workflows and help you save time for things that are truly important and help you be more productive.
Limited Offers: On Growth Tools for Your Ecommerce Business